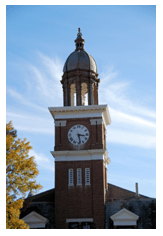 Thank you for visiting the Henry County Circuit Court Clerk's website. We hope that you find helpful and informative information which will assist you with matters pertaining to Circuit Court, General Sessions Court, and Juvenile Court. Established in March 2014, this website and its many elements are a part of a continued effort to provide citizens an avenue to access court related information via the Internet.

If you have suggestions for our website, please send me an email using the "Email the Clerk" feature on the Contact Us page. Again, I welcome you and appreciate your time.
Mike Wilson, Court Clerk
Mike Wilson was elected to the position of Circuit Court Clerk in September 2010. He remains dedicated and proud to serve the people of Henry County. read more...
The Henry County Circuit Court Clerk's office is located on the 2nd floor of the Henry County Court House and is the clerical administrator to the following courts:
Circuit Court - Circuit Courts are courts of general jurisdiction in Tennessee. Circuit court judges hear civil and criminal cases and appeals of decisions from Juvenile, Municipal, and General Sessions Courts. The jurisdiction of circuit courts often overlaps that of the chancery courts. Criminal cases are tried in circuit court except in districts with separate criminal courts established by the General Assembly.
Circuit Court - Criminal: Charges whereas the punishment or sentencing is comprised of one year or more of incarceration, probation or supervision. Typical cases heard in Criminal Court would include felony crimes against a person or property, theft, assault, drug offenses, and more serious acts such as murder, manslaughter and reckless endangerment.
Circuit Court - Civil: Civil law court where the damages or award being sought exceeds $24,999. Typical cases heard would include automobile accidents, medical malpractice, personal injury, and appeals from lower courts.
General Sessions Court - Criminal: Citations, driving offenses, misdemeanor charges, and offenses where the punishment is less than a 12 month sentence. Commonly referred to as 11/29 meaning 11 months & 29 day sentencing.
General Sessions Court - Civil: Sometimes referred to as small claims court. This court hears cases involving civil law with a level of damages or awards of $24,999 or less. Common to this court would be landlord-tenant disagreement, contract dispute, debt recovery, return of personal property and Orders of Protection.
Juvenile Court - All cases: Any judicial proceeding involving a child under the age of 18. All records are sealed.